Running laps, winning the Senate Majority
It's time to put the full pedal to the metal in the race to save the Senate. To save the Senate from Mitch McConnell and a Republican takeover, we need to win 7 out of 7 competitive Senate races.
That's why I'm holding the Race to Save the Senate on November 4 and why I'm asking for your help.
There's no question that these 7 races are going to be difficult. We've got the red state of Montana, the deep purple states of Arizona and Ohio, and the swing states of Nevada, Michigan, Pennsylvania, and Wisconsin.
On Saturday, November 4, I will run (walk and jog) 67 laps on a track – one for every year of my life. With every lap, I'll be thinking about the tough races we're fighting to win and the money we're raising to defend the Democratic Senate Majority. That goal will keep me on track as the miles add up.
You can help save the Senate by sponsoring a lap, a mile, or the whole race. Our candidates are doing the hard work to get across the finish line, and we need to make sure they have all the resources they need.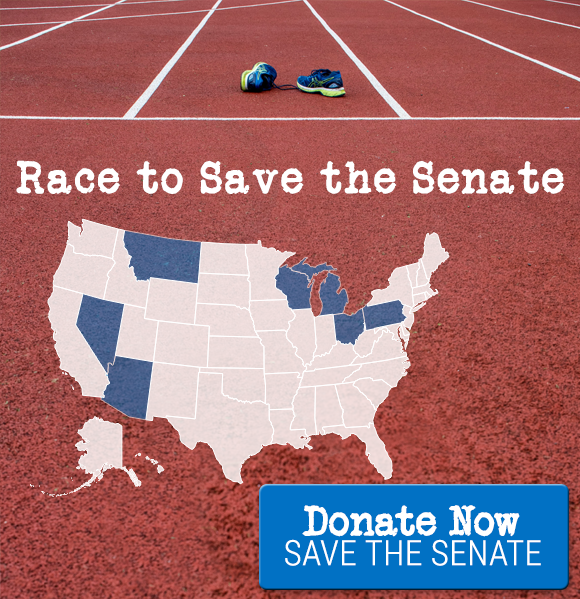 Here's what will happen If we don't win all 7 races. Republicans will block every judge nominated by a re-elected Biden. They will stop the confirmation of essential leaders for his cabinet. And they will kill good policies on health care, housing, jobs, civil rights, and climate.
That's a future we can't afford, so we have to invest now to save the Senate.
Here's a deeper look at our lineup:
ARIZONA: While incumbent Independent Senator Kyrsten Sinema's future plans are uncertain, Rep. Reuben Gallego is running as a Democratic champion. And, to make things even more complicated, election denier Kari Lake just jumped in the race.
OHIO: Senator Sherrod Brown is a powerhouse champion for working folks, which is why he's won three times in a state trending redder and redder. In the Senate, he's fighting to raise the minimum wage, protect Social Security and Medicare, and hold big banks and corporations accountable for the damage they do to our workers and our economy.
MONTANA: Senator Jon Tester has won three times in a state that's picked a Republican for President seven times in a row. It's going to be tough, but Jon's a tough guy, and we'll have his back.
WISCONSIN: Senator Tammy Baldwin has been elected twice in the swing state that re-elected hard-right Republican Ron Johnson to the Senate in 2022. As Wisconsin's first woman Senator and the first out LGBTQ+ Senator, Tammy's a fighter who's not afraid to smash glass ceilings.
PENNSYLVANIA: Senator Bob Casey is a champion for children's health care who's been elected three times in another crucial swing state that helps decide the presidential election every time.
NEVADA: In 2018, Senator Jacky Rosen was the only Democrat to defeat an incumbent Republican Senator. Throughout her first term, she's worked hard, away from the cameras, to protect reproductive rights and deliver smart, bipartisan solutions to improve tourism and commerce, among other issues.
MICHIGAN: With the retirement of Senator Debbie Stabenow, this open Senate seat will be one of the hardest-fought races in the country. Michigan will be flooded with dark money from right-wing extremist donors, and the Democratic nominee will need the resources to fight back.
Let's all lace up our shoes, click on the ActBlue link, and help build a strong foundation to back them up. With only a two-seat majority (51-49), we've got a tough, but winnable, course ahead.
We need to run laps around Republicans in 2024, which is why I'm asking you to pitch in to the Blue Wave Project's Race to Save the Senate. If you're ready to get to it, please make a donation of $3 to the Blue Wave Project today.
SAVE THE SENATE
On your mark.
Get set...
Go!
Jeff
Posted on October 20, 2023
.