The Fightin' Fourth
My heart sank when longtime Oregon Congressman Peter DeFazio announced his retirement.
The good news? With Val Hoyle running to succeed Peter, southwest Oregon won't go without a fighter for working families.
The bad news? Fueled by billionaires and corporate donations, Kevin McCarthy's SuperPAC is swamping the district with attack ads.
The road to a majority in Congress runs through Oregon, and we need to win in the Fourth District if we're going to protect Democratic control in the House.
I need you to chip in $3 today and beat back the MAGA assault on Oregon.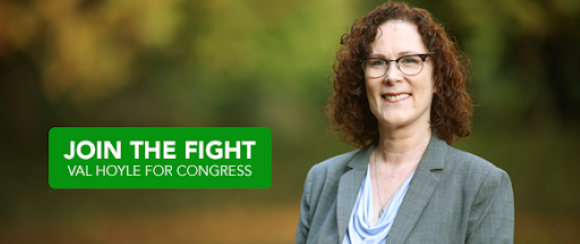 Val has spent her entire political career with one aim: to improve the lives of working families. In the Oregon legislature, she championed an increase in the minimum wage. She fought for (and passed!) paid family leave. And as Oregon's labor commissioner, she went after big businesses who tried to get away with stealing wages from workers.
While Val has a long list of accomplishments for Oregon workers, her Trump-loving MAGA Republican opponent, Alek Skarlatos, has said that he thinks there shouldn't be a minimum wage at all.
Skarlatos also sides with polluters and questions climate science, would defund Planned Parenthood, and supports ending the Affordable Care Act.
That's why we have to work overtime to make sure Oregon's 4th Congressional District doesn't become the next home for the MAGA movement.
Chip in $3 to support Val Hoyle and stop the MAGA Republican takeover of Oregon.
Onward!
Jeff
Posted on October 25, 2022
.