Three races that will decide control of Congress
Oregon has a reputation for sending compassionate, bold, smart, hard-working leaders to Congress.
This election is unique in that we Oregonians have a chance to send not one, but three history-making women to Congress.
With so much on the line in this election, I need you to chip in $6 to the Oregon Blue Victory Fund to support Val Hoyle, Jamie McLeod-Skinner, and Andrea Salinas. They will be powerhouse champions for the residents of the Fourth, Fifth, and Sixth congressional districts in Oregon.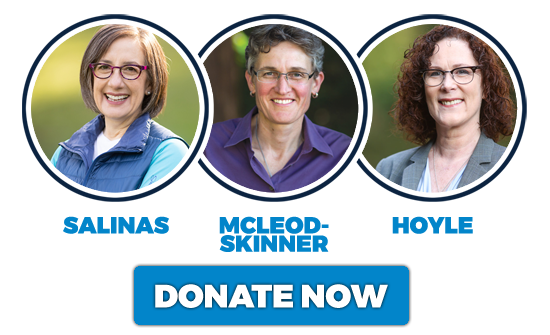 Make no mistake: the results of these three big races here in Oregon will determine which party controls the House next January.
Ballots will be mailed next week. We have less than three weeks to get out the vote. MAGA Republicans and GOP operatives have had their eyes on Oregon all year. But no one works harder to win than Oregon Democrats in October during election years.
All three of these candidates would be strong partners for me in the fight to deliver on climate action, democracy reform, health care affordability, abortion rights, and more.
All three of these candidates are in tight, must-win races that will decide the control of Congress and the course of the nation.
And all three of these candidates need our help to win.
I am eager to get to work with these amazing women in Congress. But first we need them to win in November. Donate $6 now to the Oregon Blue Victory Fund and get Val, Jamie, and Andrea over the finish line.
Onward!
Jeff
Posted on October 13, 2022
.