A gross, dirty TV ad against Jamie
Let's get right to it: there's a very real danger that a Trump-supporting MAGA Republican could win a seat in Congress... right here in Oregon.
Last month, Republican Leader Kevin McCarthy came to Oregon to campaign for Republican candidates for Congress in Oregon's three swing House Districts.
Now he's doubling down on our state with a huge SuperPAC attack ad buy — just look at this gross, photoshopped Frankenstein's monster of a SuperPAC TV ad aimed directly at voters of the 5th Congressional District.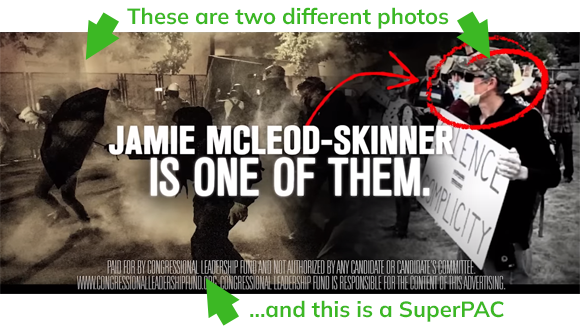 They want us to believe Jamie McLeod-Skinner is a violent extremist?
Pardon my language, but that's utter BS.
Help Jamie fight back against these lies. Pitch in today.
DONATE NOW
Jamie is a pragmatic leader and everyday Oregonian: hardworking, earnest, and straight-up committed to this fight for our future alongside Jeff. We're all-in supporting her because she'd be a terrific member of Congress.
But she's going to need a lot of help. The Fifth District is one of the swingiest of swing districts in the country. It is evenly split between the parties in voter registration – this race is a toss-up.
We know that Jamie can win this race, and we'll be darned if we let Kevin McCarthy fool Oregonians with his dirty scare tactics.
So please join us in standing against Kevin McCarthy's lies, and put your support behind Jamie today. Chip in right now.
This race is critical in the path to a Democratic House Majority, and that's not something we can afford to lose.
Molly McGuire
Team Merkley
Posted on September 29, 2022
.