Two leaders we can't forget about
You hear lots of chatter about certain states in the battle for the Senate, but I've got two others we can't sleep on.
The National Republican Senate Campaign committee has dumped $1 million against two of our most reliable allies in the Senate: Patty Murray of Washington and Michael Bennet of Colorado.
Patty Murray was first elected to the Senate in 1992, and she's been a clear voice for progressive values. She's the undisputed leader in the Senate on fighting for our reproductive health freedom and the right to a safe and legal abortion, and now after Dobbs we need her more than ever.
Michael Bennet is an independent-minded leader who's laser-focused on solving our country's biggest problems. He's delivered time and time again for Coloradans. And you should see his passion about fixing our broken Senate - his fiery speech back in January was a real stand-out and he's one of my key allies on ending the silent, secret filibuster.
That these two Senators are targeted by the NRSC is no coincidence. They're both powerhouse Democrats who pose a great threat to the MAGA agenda. Donate $9 now to help these two hard-working Senators beat back their MAGA challengers.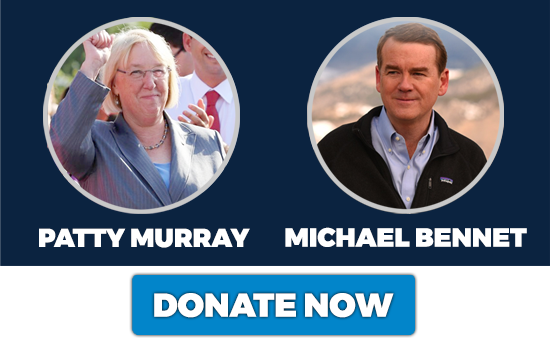 Patty and Michael have stood with us through thick and thin.
They were on the frontlines during Trump's four-year assault on our democracy.
They voted for COVID relief, the Bipartisan Infrastructure Law, and the Inflation Reduction Act.
They have joined me in the fight against the climate crisis.
They'll always protect a woman's right to an abortion.
Patty and Michael are two Senators we simply can't afford to lose. So please, chip in $9 today, and let's make sure these two champions for working families win in November.
Onward!
Jeff
Posted on September 1, 2022
.