Battleground: Oregon
Oregon hosts not one, not two, but three open Congressional seats this cycle.
Never before has Oregon been so crucial to the balance of power in Congress. MAGA Republicans are running a slate of candidates who want to turn Oregon into a new hotbed for their extremist, dangerous ideology.
But there is hope. We have 3 aces up our sleeves: three history-making women who will uphold Oregon's long standing tradition of electing candidates that fight for Oregon's working families. Donate $3 now to support Andrea Salinas, Jamie McLeod-Skinner, and Val Hoyle.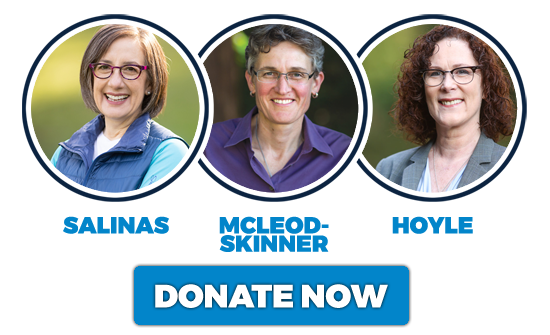 In Oregon's newly created Sixth Congressional District, Andrea Salinas is a fearless leader that I've known personally for years. She helped lead the charge to ensure that Oregonians' reproductive freedom is protected in our state, no matter the Supreme Court's decision to overturn Roe v. Wade. If elected, she'd be the first Latina representing Oregon in Congress.
In Oregon's 5th congressional district, we have grassroots powerhouse Jamie McLeod-Skinner, an emergency response coordinator and attorney. Jamie doesn't take a dime from corporate PACs — she will always put the best interests of Oregonians first. Jamie is running neck and neck with her extremist anti-choice Republican opponent. This is a swing seat and we need to win it!
And in the Fourth Congressional District, Oregon's Labor Commissioner Val Hoyle is running to replace my longtime friend, Peter DeFazio. Val has a long track record of delivering for Oregon's working families time and time again. We need more fighters for working families like Val in Congress!
The balance of power in Congress could come down to whether or not Oregonians elect Andrea, Jamie and Val in November. Donate now and let's show MAGA Republicans that their extremism doesn't have a home in Oregon.
Onward,
Jeff
Posted on August 9, 2022
.