Patty's got our back, so let's have hers
We don't need any fancy words here: access to abortion and reproductive freedoms are under the greatest threat we've faced in generations.
That means we absolutely need leaders like Washington's Patty Murray in the U.S. Senate. I am supporting her in every way possible, and I urge you to do the same with a grassroots donation.
We are seeing unprecedented attacks on basic human rights, starting with the right to control your own body, but also potentially so much more.
Birth control. Access to health care. The right to privacy in making your own medical decisions. It's all going to be under attack.
There's no better leader for these times than Patty. Since her first day in the Senate, and throughout her life, she has been an outspoken advocate for reproductive freedoms and the rights of all women.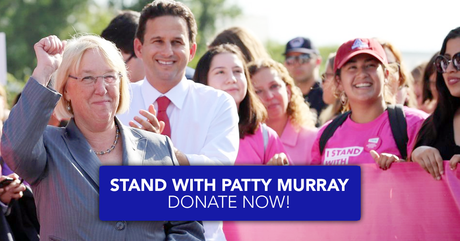 She's a great friend and ally, someone I greatly look up to, someone I know will lead the charge for progressives in the many, many battles to come.
And that's exactly why we have to defend her – in a tough election year, anything can happen; and we know that Republicans think they have a shot at defeating Patty in November.
Please join me in supporting her as she faces a re-election in these uncertain times. Please consider chipping in just $13 right now to her campaign.
We can't take anything for granted. Let's get to work.
Onward!
Jeff