Turning the tide on Mitch's play for the Senate
Mitch McConnell is hell-bent on taking over the Senate. Check out the headline: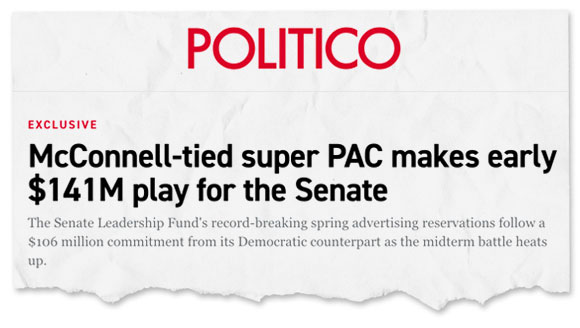 You read that right. Mitch McConnell is already committing $141 million in dark money to go after our progressive allies. And that's only the beginning. This is an all-hands-on-deck moment. Please, chip in $17 to the Blue Wave Project now and stand with progressive Senators and candidates.
Mitch McConnell's dark money super PAC is spending a fortune to defeat some of our strongest progressive allies.
$37 million to attack Rev. Raphael Warnock in Georgia. $27 million to blunt Cheri Beasley's momentum in North Carolina. $14 million to flip Mark Kelly's seat in Arizona. And he's shelling out tens of millions more in key battlegrounds across the country.
The chattering pundits are already saying Democrats are in trouble.
But I disagree. We Democrats have so much going for us. We delivered on a groundbreaking infrastructure law, provided billions in pandemic-relief to individuals and businesses, and made a historic appointment to the Supreme Court.
And there's so much more we want to do: expand health care, protect reproductive rights, tackle the climate crisis, and hold accountable price gouging and tax dodging corporations.
We can't let Mitch McConnell stand in the way of progress. Every one of us needs to make our voice heard from now until November to show that Democrats are not yielding to corruption and hate. Your contribution of $17 will jumpstart our campaign to defend and expand our majority in 2022.
DONATE NOW
I'm not going to lie to you. Mitch McConnell's enormous ad buy is a challenge. He's betting that he can wear down Democratic voters from standing up for our values. He's hoping his billionaire-funded super PAC can buy him a majority to block future judicial nominees, push anti-immigrant poison pill legislation, and force the American people to suffer in order to hurt President Biden politically.
But I won't be intimidated, and I know you won't be either. Let's show Mitch McConnell and his billionaire cronies that their dark money can't beat us.
Onward!
Jeff
Posted on April 19, 2022
.