Cheri Beasley needs our help
I just got word from my friend Cheri Beasley, our US Senate candidate in North Carolina:
Donald Trump's coming up from Mar-A-Lago on Saturday to headline a rally for her opponent, Republican Congressman Ted Budd.
Let's say hello the progressive way, by out-organizing them and leaving these Republicans on the losing side of 2022.
Donate today to help Cheri Beasley stand up to Team Trump, win in North Carolina, and expand our Democratic majority in the Senate.
It's not just Trump and Budd, either. They'll be joined by Rep. Madison Cawthorn, the North Carolina Congressman who has joined them in peddling bizarre conspiracy theories and supporting those who led the January 6 insurrection. He's even taken Putin's side of the vicious war to crush Ukraine's independence and democracy.
So let's see if I have this right:
On one side: A twice-impeached former president, a demagogue Congressman who sides with a war criminal, and their hand-picked candidate who voted to overturn the results of the 2020 election.

And on the other: The first Black woman chief justice of North Carolina's Supreme Court who is fighting for justice for those left behind, in the courts and in our economy.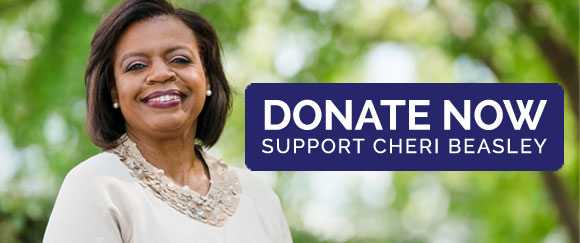 And all this in one of the swingiest swing states in America. Trump, Budd, Cawthorn, and their allies are going to spend tens of millions of dollars trying to buy this election.
We can't let that happen. Please chip in $3 right now and rush support to Cheri Beasley in North Carolina.