My pick for Congress: Val Hoyle
We cannot allow Donald Trump's allies to take control of the House of Representatives. We have to defend every swing seat we currently hold.
One critical front in that battle is right here in Oregon's Fourth District.
Trump ally Alek Skarlatos says he would eliminate the minimum wage, defund Planned Parenthood, overturn the Affordable Care Act, and as for overturning Roe v. Wade, he says, Republicans should "go for it." In 2020, Skarlatos gave Peter DeFazio his toughest race ever. For 2022, he's already raised over a million dollars.
Thankfully, Oregon Democrats have Val Hoyle. I've endorsed Val for Congress because she has a proven track record of fighting for working families and delivering results. She fought to raise the minimum wage. She ensured Oregon workers have paid sick leave. She won the biggest increase in our schools budget in state history. She championed Oregon's clean fuels program, which has already reduced greenhouse gas emissions by 6 million tons and displaced over 1 billion gallons of fossil fuels.
I'm asking you to chip in $3 right now, splitting your donation between Val's campaign and the Oregon Blue Victory Fund, which supports voter outreach efforts across the state.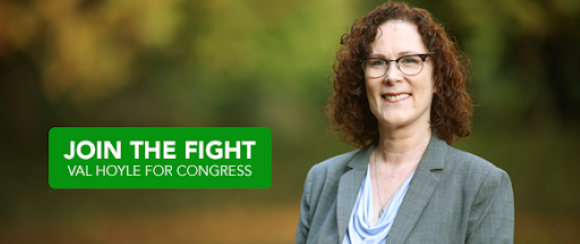 Val knows the struggles faced by working Oregonians. She has been a low-wage worker, a working mom, and a union member. She gets the value of protecting workers and the importance of strong unions.
She's been endorsed by the Planned Parenthood Action Fund, Oregon AFL-CIO, Oregon Education Association, Oregon Nurses Association, and many others.
Will you join me and Peter DeFazio by making a donation right now to help Val win in the critical Fourth District?
We can't let Donald Trump's allies power Alek Skarlatos to victory in Oregon. We just can't.
Jeff
Posted on March 20, 2022
.