>>> 👩🏼👩🏽👩🏾👩🏾 <<<
Today is International Women's Day – a day to stop and celebrate the achievements of women and recommit ourselves to building a world that's diverse, equitable, and inclusive; a world that is gender equal.
There are 24 women serving in the US Senate today. That represents a lot of recent progress, but it's a far cry from equality.
So, today, I'm asking you to step up and support two powerhouse women who have earned re-election to the Senate – and two other extraordinary women who are running for the Senate for the first time in 2022.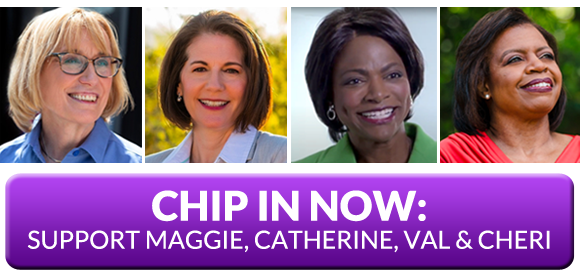 Senator Maggie Hassan (D-NH) is a powerful voice for tackling the climate crisis and fixing the filibuster. Every day, she's right in the fight, rolling up her sleeves, and working to get good things done. Now she's facing a retired army general who believes Donald Trump's big lie about the 2020 election.
Senator Catherine Cortez Masto (D-NV) is a strong, progressive voice on climate policy, health care, immigration, and so much more. She's the first Latina ever elected to the U.S. Senate and a great friend and ally. Now she's facing a former state attorney general who led Trump's campaign in Nevada and says the violence on January 6, when insurrectionists attacked police officers with fire extinguishers, flag poles, and bear spray, has been "exaggerated".
Congresswoman Val Demings (D-FL) rose from poverty to become the first in her family to go to college, a social worker, and then, the first Black woman police chief of Orlando. She's a tireless champion for public safety, civil rights, and expanding the American Dream to all. One of the Trump impeachment managers, America has seen her powerful voice in action.
Former Chief Justice Cheri Beasley (D-NC) was a public defender who became the first Black woman chief justice of her state's Supreme Court — and she's fighting for justice for those left behind, in the courts and in our economy. She's running in the swingiest of swing states against a Trump-allied Congressman who voted to overturn the results of the 2020 election and is running with Trump's enthusiastic support.
If we elect these four extraordinary women, we'll be re-electing the first Latina Senator, electing the second and third Black women Senators, and pushing the number of women in the Senate back up to 26 – the highest mark ever (with a long way to go still.)
Chip in now and let's step up for Maggie, Catherine, Val, and Cheri.
Onward!
Jeff