My pick to succeed Peter DeFazio
The fight to control the House of Representatives runs through Oregon. The Republicans only need to flip five seats – and there are two open seats right here.
The race for the 4th District is going to be tough and filling Peter DeFazio's shoes will not be easy.
Thankfully, Oregon has the right person for the job in Val Hoyle.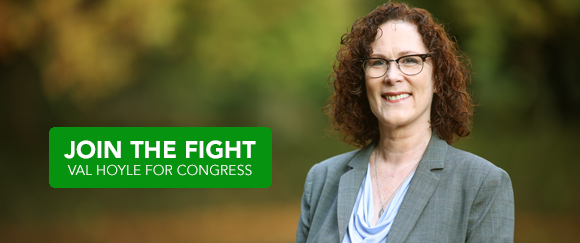 As our state Labor Commissioner and legislative leader, Val has a proven track record of fighting for working families and delivering results. From working to raise the minimum wage to ensuring Oregon workers have paid sick leave, it's clear as day who Val will fight for in Congress.
I know Val will be a tremendous partner and ally in Congress.
I hope you will join me in supporting Val by signing up to hear more about her campaign.
Kevin McCarthy is already raising millions of dollars from corporate lobbyists in his campaign to win the House. We've got to do everything we can to fight back. And standing with Val Hoyle in Oregon's 4th District is a critical part of that fight.
Onward!
Jeff
Posted on January 31, 2022
.