Do you remember where you were one year ago?
Exactly one year ago today, Democrats in Georgia – powered by a huge wave of grassroots power – took back the US Senate by winning two seats and giving us a bare 50-50 majority.
It was historic. It was powerful. And it has meant we've been able to make huge strides to provide pandemic relief, kickstart our economy, and more.
But it's not enough. With that bare 50-50 majority, we've been stymied in moving forward on voting rights, on climate justice, on paid family leave, on extending the child tax credit, on so much more.
Like you, I've been frustrated that we're not moving forward bolder and faster. But we can't give up. We must remain hopeful, and – more importantly – we must work as hard as we can to defend and build our majority.
And Job #1 is defending Senator Raphael Warnock in Georgia. Because his 2020 election was a special election, he has to run for re-election this year.
Right now, CNN is calling Sen. Warnock the most vulnerable Democratic senator – and the GOP is coming after him as their TOP target for defeat.
Believe me when I say all our progress so far was only possible because we elected Raphael last year, so I'm counting on your help to keep him in the Senate.
Will you give $12 or more right now so we can re-elect Raphael, defend our Democratic Senate majority, and continue delivering for our country?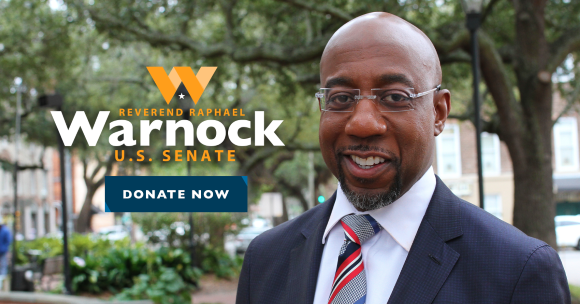 I'm so proud to work alongside Raphael in our critical fights for justice. He's a moral warrior, a voting rights champion, and the strong leader we need to win in Georgia and keep the Senate blue. But Republicans know it too, so they're pulling out all the stops to defeat him.
Donald Trump held a massive MAGA rally in Georgia to prop up his handpicked candidate, football star Herschel Walker – and Mitch McConnell is mobilizing billionaire donors and SuperPACs to spend millions to retake his extremist majority. A recent poll has Senator Warnock down 1 point – we cannot let up!
Our entire Democratic agenda is once again at stake with this race in Georgia. So please, I'm counting on you to rush your support right now:
Will you give $12 or more now to help Senator Warnock win in Georgia, defend our Democratic Senate majority, and pass our bold, progressive agenda?
It's going to take all of us coming together to win this.
Jeff
Posted on January 5, 2022
.