Can I count on you to help Val Demings & Tim Ryan?
Like you, I'm incredibly frustrated that our 50/50 Senate —where every Senator has a veto—has been unable to pass Build Back Better yet.
The BBB investments from fair drug prices to child care to preschool to tax credits to lift children out of poverty will help families a lot. And we need to move quickly and boldly on climate.
So it's absolutely clear: We need more than 50 Democrats in the U.S. Senate.
Thus, I have big news. I'm making my first two Senate endorsements of the 2022 election cycle.
I'm enthusiastically supporting Val Demings in Florida and Tim Ryan in Ohio, and I hope you will too.
It seems that almost every election, it comes down to Florida and Ohio.
Let's be honest, they're hard states to win. So thank goodness we have two fantastic candidates who can get it done—with our help.
Chip in now and let's power these grassroots campaigns forward.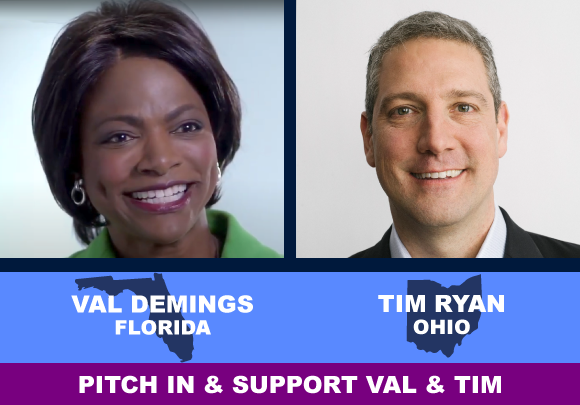 In Florida, Val Demings, like me, grew up in a blue collar home and was the first in her family to go to college. You might remember her from the first Trump impeachment trial, where she was a powerful voice demanding accountability. Now she's taking on Senator Marco Rubio.
That alone makes this fight one worth giving everything we can, and then some.
Tim Ryan is a champion for good jobs and common sense, in the model of one of my favorite senators, Ohio's Sherrod Brown. Tim's an unapologetic champion for working Americans of every background, never shying away from a fight with the privileged and powerful who try to rig the game in their favor. That's the kind of voice we need more of in the U.S. Senate!
Here at the Blue Wave Project, we know Val Demings and Tim Ryan are key to Democrats holding on to the Senate in 2022.
They both voted for the Build Back Better Act in the House. They both voted to stop the attacks on our freedom to vote and to prevent billionaires from buying elections. They're exactly the kind of senators we need to get the most important priorities done.
And, for that reason, I am asking for your early support of their campaigns. Chip in now!
Time to get to work. Onward!
Jeff
Posted on December 21, 2021
.