Today, at the Supreme Court:
Today, we're facing the biggest battle we've had yet in the fight to protect Roe v. Wade.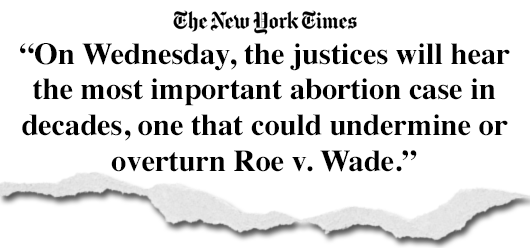 What do we do about it? We need to get organized for the fight ahead.
Chip in $6 right now. The future of abortion rights in America depends on winning a progressive Senate majority in 2022.
The coming case out of Mississippi will determine the fate of Roe v. Wade. Access to a safe and legal abortion is on the line, both in that state and in so many other places across America.
Mississippi's law, which outlaws most abortions after 15 weeks, is the direct challenge to Roe v. Wade that conservative activists have been dreaming of for decades.
Donald Trump ran on a platform of ending Roe v. Wade. Aided by Mitch McConnell, he appointed three Supreme Court Justices seen as committed to overturning the right to an abortion.
They say the next step is theirs to take. In truth, it's ours.
If we organize tirelessly, over the coming year on the campaign trail we can make the case for electing a progressive majority that believes abortion access is health care—which it is.
We must continue to support President Biden's appointments to lower courts, be ready to support a Supreme Court nomination when the next one happens, and—perhaps most importantly—be ready to pass a law that protects reproductive rights as a matter of federal law.
Please chip in $6 right now. We must be strong enough to overcome anything that comes out of the Supreme Court.
Time to get ready.
Jeff
Posted on December 1, 2021
.