Woof! I'm Jeff Merkley's best friend!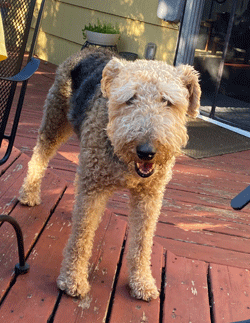 Hi! I'm Roxy!
I'm Jeff Merkley's new best friend. Jeff and Mary just adopted me this summer, though I think I'm older than Jeff in dog years. We snuggle on the couch. He gives me treats.
We also go for hikes in the woods. I really like hiking in the woods.
HEY, LOOK! A SQUIRREL!
Sorry, I'm back now. What was I saying?
Oh, yeah. Lately, Jeff has been going for some REALLY long runs. Too long for me. He calls it "training", but he seems pretty good at running already.
They told me that Jeff has friends all over the country, and you're one of them. That's OK, as long as you understand that I'm his BEST friend.
Jeff says he's getting ready for a "marathon", and he's running it so all his friends across the country can help him with his "blue wave".
I'm not sure what a blue wave is, but I'm pretty sure it means that Jeff needs more friends in his pack. He calls them "Senators."
Will you share some kibble with Jeff so he can grow his pack?

Anyway, we're about to go for another walk. It's going to be a long one.
Afterwards, I'm going to take a long nap. Jeff never takes a nap. He just goes back to "work", which seems very important.
Thanks for helping grow the pack!
Wags,
Roxy
Posted on October 22, 2021
.