Making Washington Work for Working Families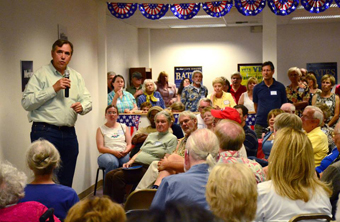 It used to be that if you worked hard and played by the rules, you could get ahead. Now it seems like the special interests get to write the rules while middle class families are squeezed by declining wages, a crippling financial crisis, and a housing crash that left may families facing foreclosure.
To create a stronger and growing economy, we must reverse these trends and make Washington work better for working families.
Jeff has fought for laws that create a fairer system for consumers, including legislation that finally put an end to the predatory mortgage lending practices that led to the financial crisis. And because pro-consumer reforms so often get bogged down in Congress by special interest lobbying, Jeff fought to create a stand-alone agency, the Consumer Financial Protection Bureau, with the sole mission of protecting consumers. And because of his fight to fix the filibuster, the Consumer Financial Protection Bureau has a Senate-confirmed Director for the first time.
After Wall Street's risky bets led to the worst financial crisis since the Great Depression, Jeff fought to end Wall Street's gambling with Main Street money. Jeff co-authored the "Volcker Rule" to establish a firewall between the banks that consumers and businesses depend on and risky, high-stakes trading. Wall Street must never again be able to put the entire economy at risk with their bets.
Jeff has also been a leading opponent of the Citizens United Supreme Court decision that allows unlimited secret cash in elections.
To break the special interest stranglehold on the Senate, Jeff has been a leader fighting to fix the filibuster and reform the Senate rules. Right now, popular bills with majority support are routinely killed with anonymous and silent filibusters by senators abusing outdated rules. He thinks that if you want to filibuster a bill and hold up passage, you should have to actually expend time and energy to actually perform a talking filibuster. Then the American people can weigh in and say if the Senator performing the filibuster is a hero or a bum.