Advocating for Women and Families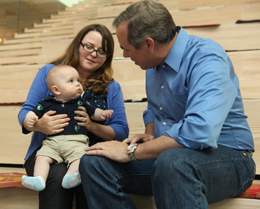 Jeff is a leader in the U.S. Senate fighting to protect women's rights and women's health. He fought back when Republicans tried to cut access to contraceptives and repeal the Affordable Care Act, and helped lead the fight to ensure women get equal pay for equal work.
Jeff stood up to the Republicans when they tried to defund Planned Parenthood and said no when they tried to pass the Blunt amendment, which would have allowed employers to limit women's health care decisions.
Jeff always sides with women who want to make their reproductive and health care decisions without government interference, and as long as he represents Oregon, women and working families throughout the state will have a champion in D.C.
To make our health care system work for women, families and small businesses, Jeff supported the Affordable Care Act. The ACA required insurance companies to cover a range of women's preventative services without cost sharing, and brought an end to many predatory insurance practices that victimized women and families, like excluding maternity care from health plans. It also stopped insurance companies from charging some more than others for the same coverage. Jeff also expanded protections for nursing mothers in the workplace by adding a bipartisan amendment to ensure working mothers have the time and space they need to pump breast milk while at work.
Women in Oregon who work full time, year-round still make only 79 cents for every dollar that a man makes. That's why Jeff cosponsored and helped pass the Lilly Ledbetter Fair Pay Act, and is fighting now to pass the Paycheck Fairness Act. Jeff is also leading the fight to increase the minimum wage, which disproportionately affects women, who make up two-thirds of minimum wage workers in Oregon.