Veterans
Our veterans have served their country with honor and deserve the utmost respect from our nation for their sacrifice, and Jeff is committed to the nearly 320,000 veterans living in Oregon.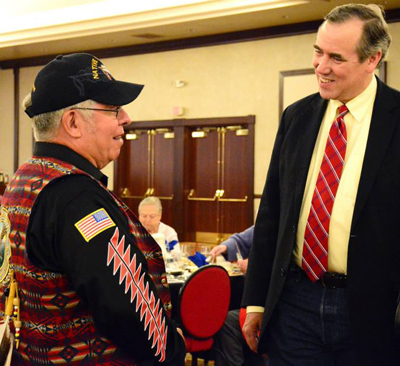 Jeff supports expanding education benefits for military families as well as job assistance to help ease the transition to civilian life. Jeff co-sponsored the Post-9/11 Veterans Educational Assistance Improvements Act to expand education benefits for veterans, service members, and their families, and introduced legislation recently signed by the president that will grant full education benefits to military spouses who lose their partners in the line of service. Nothing will make up for the sacrifice those spouse make for our country, but we should at least give them the means to build their skills and provide for their families.
Jeff supported legislation to improve veterans' health services by helping family caregivers, expanding services for women veterans, assisting homeless veterans, and supporting veterans living in rural areas. Following the release of a report that revealed an unacceptable backlog at the U.S. Department of Veterans Affairs facilities, Jeff called for renewed accountability and dramatic action to turn around a system that's failing Oregon's veterans.
Members of the National Guard assist our citizens in emergency situations and natural disasters here at home and protect our country abroad. Jeff supports extending the full VA benefits received by our Army, Navy, Air Force, and Marines to members of the National Guard.