Seniors
Jeff believes we must honor the promises we've made to our seniors.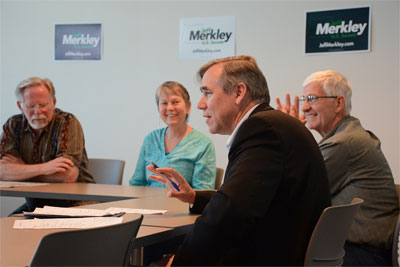 He is committed to strengthening our Social Security system and ensuring that future generations of Americans can receive all of the benefits that they are promised. Jeff is adamantly opposed to proposals that would privatize Social Security or cut benefits and introduced the Fair Raises for Seniors Act to make sure benefits don't lose value to inflation.
Jeff is dedicated to ensuring Medicare remains solvent and will fight against hostile attacks to privatize, weaken, or dismantle it. He cosponsored legislation to protect Medicare's guaranteed benefits because he understands that it's an important lifeline for our seniors.
Jeff is committed to tackling the rising cost of prescription drugs, which is a huge problem for seniors struggling to afford the medicines they need. Our seniors should never have to pick and choose which medicines they can afford, and they can count on Jeff to advocate for their needs in the Senate. He thinks the government should be able to negotiate drug prices with the drug companies, helping to lower costs for Medicare, and provide cheaper drugs for seniors.