A Leader for LGBT Equality
Jeff sees the battle for LGBT equality as the central civil rights issue of our time. He's been a leading advocate for the LGBT community during his time in the Oregon State House, and the U.S. Senate.
In the Oregon State House, Jeff led passage of a bill to end workplace discrimination in Oregon.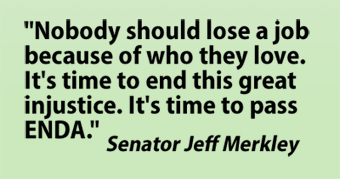 When he entered the Senate, the late Senator Ted Kennedy asked Jeff to take on the national fight against workplace discrimination and lead the Senate effort to end it once and for all. Last fall in an historic vote, the Senate passed Jeff's bipartisan bill, the Employment Non-Discrimination Act, setting down the marker that no one should be fired for who they are or who they love. While we wait for House action, Jeff pushed for an executive order that would ban employment discrimination for federal contractors. President Obama responded, and a new order will immediately enforce protections for 20 percent of American workers.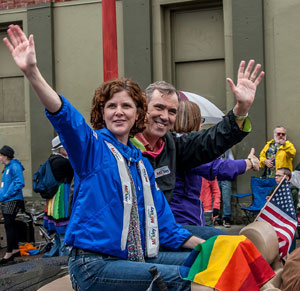 Jeff believes strongly that the right to marry is fundamental and that everyone should be treated equally under the law. He is a longtime supporter of marriage equality for LGBT Oregonians. As Speaker of the Oregon State House, Jeff spearheaded efforts to implement domestic partnerships for LGBT couples, giving them full equality under state law. In 2008, Jeff ran as a strong supporter of marriage equality, a minority position at the time in the Senate. Jeff is proud in that marriage can no longer be denied to same-sex couples in Oregon, and in the Senate he'll continue to fight for marriage equality for all Americans.
When Jeff entered the Senate, he lobbied his colleagues to end the discriminatory military policy of "Don't Ask, Don't Tell." He understood that soldiers' private lives should have no bearing on their willingness or ability to serve – that's why he called for the repeal of the unjust and discriminatory policy. Jeff voted for and passed a repeal of "Don't Ask, Don't Tell" in 2010.
When Lt. Col. Linda Campbell, an Oregon veteran, asked Jeff to help obtain a waiver to allow her partner to be buried by her at a national cemetery, Jeff appealed personally to Veterans Administration Secretary Shinseki to procure the waiver. After a months-long campaign by Campbell and Merkley, Shinseki relented, and allowed Campbell's partner to be the first same-sex partner to be buried at a national cemetery.