Education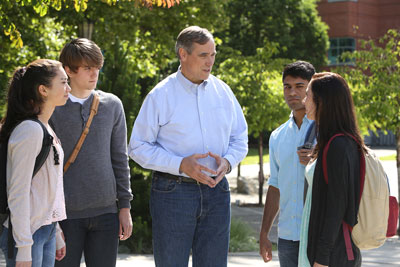 The son of a mill worker, Jeff was the first in his family to go to college, and his kids go the same public high school that he did.
As our Senator, he's fighting to support students, their families, and educators because he knows that a strong education system is essential to restoring a strong middle class.

Making College More Affordable
Skyrocketing tuition costs are putting college out of reach for too many Oregonians. Jeff helped make college more affordable by cutting out big bank middlemen raking in profits on student loans. Jeff will keep fighting to make sure that fear of debt doesn't hold back our kids from pursuing their dreams. Jeff also introduced legislation with Elizabeth Warren of Massachusetts that would allow people to refinance their student loans at lower rates, reducing millions of Americans' bills by hundreds or thousands of dollars a year. When student loan rates were set to double last year, Jeff took action and voted to prevent interest rates on student loans from doubling. He also stood up against Republicans trying to cut federal funding for education.

Improving Oregon's Schools
Years of budget cuts have left Oregon's public schools with overcrowded classrooms, shortened calendar years, and rundown facilities. Jeff understands we have an obligation to improve our schools and prepare our children for the future, and he will keep fighting for funding to support Oregon's students and teachers in his role as a member of the Senate Appropriations Committee.